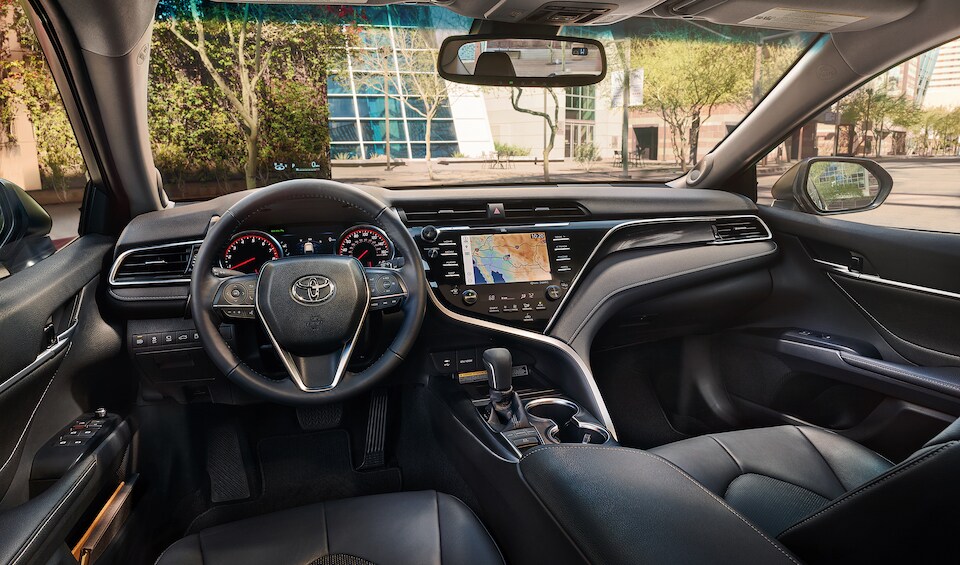 Your Next Toyota is Ready for You at Condemi Motor Company
Whether you're looking for an efficient and affordable sedan, a safe crossover or SUV, or a dependable pickup, the one name you can count on is Toyota. Versatility, comfort, and style are areas in which Toyota truly excels, ensuring that there is the perfect model for every driver.
The Toyota brand has introduced many iconic models from the ever-reliable Toyota Corolla to the family-friendly Toyota Highlander, and even more. When you look at the range of models, trim levels, and price points that are available throughout the Toyota lineup, it's easy to see why so many Lodi, NJ drivers choose them.
Explore the Inventory of Top-Notch Used Toyota Vehicles
We understand that a brand-new Toyota model is not what every Newark driver is looking for, so whether you want to save money, love a specific model year, or simply prefer purchasing pre-owned, here at Condemi Motor Company we have something for you. Our inventory of expertly inspected Toyota vehicles features models such as the sleek Toyota Camry sedan and family-ready Sienna minivan.
However, as a premier used car dealership in the Jersey City area, our selection is always flowing with fresh choices. Which means, if you don't see the Toyota of your dreams now, don't forget to check back often for our most updated inventory.
Make the Trip to Condemi Motor Company Today
Want to learn more about our available inventory of used Toyota models? Start the car-buying process today by exploring our online showroom. Or, make the short drive over from Paterson and visit us in person! We'll be happy to answer all your questions and get you out on the road for a test drive. If you have any questions about financing, we can help with that too. We'll walk you through all your auto loan options so you can head home in your next Toyota.
Make an Inquiry
* Indicates a required field
Used Toyota Corolla
Travel Confidently in Lodi, NJ, and Beyond with a Used Toyota Corolla
If it is a pre-owned compact car with bold features that is what you are shopping for near Jersey City, our used Toyota Corolla models offer enticing finds. Whether it's an efficient commuter that you are interested in buying or a car with dynamic performance and extraordinary style, we recommend browsing our selection of pre-owned Toyota Corolla cars for sale close to Newark at Condemi Motor Company.
With a variation of trims and exciting features, the used Toyota Corolla cars we are often hand-selecting provide an inventory of pre-owned cars Paterson area drivers can depend on when looking for a dependable used vehicle that's a match for a spectrum of budgets. The used sedan features a comfortable interior, as well as an agile performance, with options for motorists looking to spend fewer trips at the pump or if you want a vehicle with thrilling handling. There are also various packages and amenities that you can see with the pre-owned Toyota Corolla models that we offer, as well as head-turning exterior colors.
Whether you are searching for the right family sedan or one that you can count on to carry luggage while cruising around nearby Elizabeth and neighboring areas, this used Toyota car model offers a generous amount of space inside for travelers and cargo room. Discover our used cars for sale and see which pre-owned Toyota Corolla models we currently offer. See firsthand why the Toyota Corolla is an all-around compact car that provides the perfect blend of style, performance, features, and space.
To see how you can kick your routine travels up a notch, schedule a test drive in a used Toyota Corolla today. If you don't see the pre-owned Toyota vehicle for you within our current variety, we encourage our shoppers to check back again shortly or feel free to use the CarFinder tool so that we can help locate your vehicle for you!
Used Toyota Camry
Pre-Owned Toyota Camry Sedans Available in Lodi, NJ
For more than three decades, one beloved, high-quality sedan has been giving drivers the reliability they crave and the style they love. The Toyota Camry debuted in the first half of the 1980's, and it's been a steadfast and true friend for our Condemi Motor Company customers ever since.
The collection of pre-owned Toyota Camry models on this page continue the tradition set by the model all those years ago. They offer the longevity you're looking for, in the roomy, four-door style you've come to appreciate.
Every Camry we carry gives drivers plenty of legroom and space in the front, with a pleasing amount of legroom and seating for three people in the backseat. Additionally, the Camry comes with a cavernous trunk space to accommodate a full load of groceries or suitcases.
With an assortment of model years and trim levels available in our used Camry inventory, drivers from Newark to Jersey City can count on there always being something that appeals to their personalities, car-buying budgets, and comfort needs. We proudly go above and beyond to supply our customers with all of the reputable Camry quality they're looking for.
Your search for the perfect used Camry for your family can be easily modified, too. Using the toolbar on the left side of your screen, you can limit your search results by mileage, age, price, and more. Find the ideal, pre-owned Camry for you in just a few clicks of your mouse.
Condemi Motor Company is located on Route 46 West, conveniently located for drivers throughout the Paterson and Elizabeth area, and we're open Monday through Friday, most nights as late as 7PM, to help you find your perfect next car.
Stop by and visit us soon, to find all of the used cars Lodi, NJ drivers are looking for, including the legendary, unbeatable, Toyota Camry.
Credit Acceptance
Pre-Owned Toyota Models are Waiting at Condemi Motor Company
When you're searching for a dependable car, you're not going to find many options better than the Toyota lineup.
Luckily for drivers in Newark and Jersey City, dealerships like Condemi Motor Company have a range of used Toyota models available. If you're looking for an affordable sedan or SUV, we have the options you need to drive home satisfied.
Some of the Industry's Most Popular Sedans and SUVs
When you come to our dealership in Lodi, NJ, you'll find used options for a variety of different Toyota-brand models. These include popular sedans like the Toyota Camry and Corolla. Efficient and well-equipped, these used models likewise come with the benefit of a lower price tag.
The same can be said for our stock of used Toyota SUVs. The Toyota Highlander has long been a family favorite thanks to its rugged performance and high passenger capacity. We might even have some affordable minivans available, depending on what's in stock when you come to visit us. We get new batches of used vehicles all the time.
Shopping with Bad Credit? Have You Considered Buy Here Pay Here?
Even when you find an affordable model, it can sometimes be hard to find the financing you need to drive it home. Our dealership's finance center offers a credit acceptance program that can help. We also offer a Buy Here Pay Here program tailored toward Paterson and Elizabeth customers with bad credit. With this program, you'll be approved for financing first and then be presented with a selection of affordable options based on the funding you've been approved for.
Come and Learn More About Our Used Inventory
When you're interested in a used Toyota model, contact the sales team at Condemi Motor Company. We'll help you find a pre-owned car that fits your budget and your needs. We'd love the chance to speak with you about everything you're looking for and how our used inventory can help you find it.